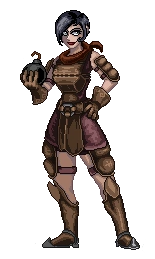 "Agile, cunning scoundrel"
The Rogue (real name of Renee) is one of the seven playable classes within the game Wayward Souls, and is one of the melee classes in the game. 
Character Guide
Information
The Rogue is another 'high risk high reward' type of class. While she has the same attack range as the Cultist, she has neither stealth nor AoE stun to set up guaranteed safe kills.
Her dash ability is a difficult tool to master, even more than the Spellsword, as dealing damage with regular attacks requires the player to hit the enemy significantly more times than any other character in order to kill them. Learning how to utilize her backstab will make the player an effective Rogue.
Pros
Has high maximum DPS.
The Rogue's dash allows the player to pass through enemies as well as dodge magical projectiles.
Cons